OVERVIEW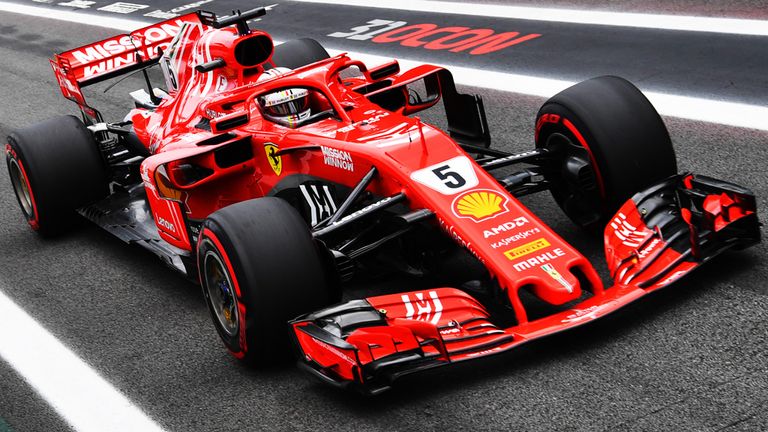 Vettel made his full time debut in 2008 with Scuderia Toro Rosso, he claimed pole and won in the midfield car in a rain hit Monza weekend, earning him comparisons to Michael Schumacher. He was destined for greatness, greatness he achieved in the coming 5 years. Finishing runners up in an underperforming Redbull car in the 2009 F1 Championship and then going on to win 4 consecutive F1 World Titles from 2010 to 2013.
REDBULL
After those 5 wonderful seasons, including 4 Championships came a certain 2014 season with new rules and regulations and a new teammate for Vettel in the form of Daniel Ricciardo. In the understeering Redbull car, Vettel was outperformed by rookie Daniel in only his first season in a Redbull. The car's handling, and a mix of understeer and lack of reliability is what made that season a disaster for Vettel. With Daniel winning 3 races that season, Vettel's season was deemed as a failure.
FERRARI
But a 4 time World Champion wouldn't give up so easily, would he? Vettel switched to Ferrari partnering Kimi Raikonnen and won 3 races in a car not capable of winning any races in the 2015 season. This was followed by a winless 2016 season in a Ferrari car which was called a boat many times. 2017 and 2018 saw Vettel claiming 5 wins each and taking the competition to Lewis Hamilton, but ultimately losing out to the superior Mercedes car. The 2018 season after September is where Vettel really began to fall off in terms of wins.
As of now, Vettel hasn't won a race since Belgium 2018. This is because of a few reasons. Mistakes in the later part of the 2018 season, a new teammate in the form of Charles Leclerc (to whom the understeering car suits more than Vettel), a couple of bad decisions on the part of the FIA (robbing Vettel of a couple of race wins- Canada 2019 most notably). With Charles now ahead of Vettel in the 2019 Championship it's about time Vettel starts to perform or it will be a repeat of the 2014 season.
What I make of Vettel's current performance.
Now, I may be biased being a Vettel fan for the past 9 years but this is what I make of the situation, and this is what my advice to him and the Ferrari team would be. To make it clear I'm sure Verstappen is way better than Leclerc, who is just protected by Ferrari and the whole toxic community that is his fans.
Let's just put it this way that Vettel's current performance is due to the pressure of being a senior driver at Ferrari, expectations from millions of fans and a combination of the car's driving nature and a few mistakes here and there. The fact is, even the smallest of errors by him are blown out of proportion which in my opinion is unfair. Leclerc on the other hand, who does the same mistakes is just blindly ignored and only praised for what good he does.
If Ferrari are able to put together a car which does not have understeer, it may have oversteer though, there is absolutely no chance Leclerc will beat him. The fact is, Vettel has over-perfomed several times in his career, but these instances are often overshadowed by the those times when he is not able to perform to the fullest. I also believe that a Redbull environment was more suitable for Vettel as compared to Ferrari's.
You know why Vettel isn't a bad driver? He has won the Race of Champions Nations Cup and the Champion of Champions for Germany and himself at 7 occasions now. When the car is completely neutral and no one has an advantage over the others, he performs.
Conclusion
To end the debate, I would say that a driver like Vettel, with over 50 wins, 50 poles and numerous youngest driver world records need to be respected more and be given more credit than he is currently being given. It is absolutely true that, if given a perfect car like the Mercedes, most drivers wouldn't be able to match or outperform Vettel, with the occasional exception of Verstappen and Hamilton. I personally would like to see that familiar number one finger of Vettel as soon as possible.
#SebastianVettel5 , #SV5 , #ScuderiaFerrari , #Legend
This was my view of the whole situation, what do you think? Leave your thoughts and suggestions in the comments below.